As you may have determined by visiting here, I never take a recipe that I find and just follow "as is". I tinker and try and mold to my tastes. So, what I did here was take a great sounding recipe from the Neely's on Food Network and mold to our tastes.
For reference, here is the recipe on Food Network:
Neely Food Network Clam Chowder Recipe
Here is our take on the recipe:
First, make your smoked bacon...
Home Cured Bacon, Step by Step
Then make your chowder.
3 Three 8-Ounce Canned Clams
3 8-Ounce Bottles Clam Juice
3 Thick End Pieces of Smoked Bacon Smoked Bacon, Diced
3 Cloves Garlic, Diced
2 Ribs Celery, Diced
2 Carrots, Peeled and Diced
1 Onion, Diced
2 tsp Chopped Fresh Thyme
1 Bay Leaf
Salt And Freshly Ground Pepper
5 Tbsp All-Purpose Flour
3 medium Idaho Potatoes, scrubbed, peeled, and diced
1 cup Low Fat Half-And-Half
1 Tbsp Balsamic Vinegar
Dash Of Hot Sauce
Dash Of Worcestershire Sauce
Our changes?
3 slightly smaller cans of clams ultimately leads to more clams in the final product.
1 extra bottle of clam juice. More of that good clam flavor.
Idaho potatoes instead of the red potatoes. We feel in leads to a creamier end product.
Addition of carrots. We feel it adds a slightly sweet taste.
Low fat half and half instead of the real deal. You really don't need it at all.
Balsamic vinegar instead of cider. We feel it adds more depth of flavor.
5 Tbsp of flour instead of 3 Tbsp. We like our chowder on the thicker side.
We also simmered longer to give the mix a chance to cook down and thicken.
As for method, we kept it the same as the recipe:
Heat a large Dutch oven over medium heat.
Drain the canned clams over a measuring cup and reserve the juice. You will need 3 cups reserved juice in total, so add the 3 bottles of clam juice to make a total of 3 cups. (We did not drain. We added the whole can at once. Why dirty something?)
Add the bacon to the Dutch oven and saute long enough for the bacon to begin to render its fat but not begin to brown, about 3 minutes. Turn up the heat and add the garlic, celery, onions, thyme, bay leaf and some salt and pepper. Saute until tender and fragrant, 4 to 5 minutes. Add the flour and cook until pasty and blonde. Stir in the clam juice, and then add the potatoes. Bring to a simmer and cook until the potatoes are just tender, about 8 minutes.
Add the half-and-half and clams and cook for an additional 5 minutes. Season with the vinegar, hot sauce, Worcestershire sauce and salt and pepper.
Here are the results...
Rendered bacon...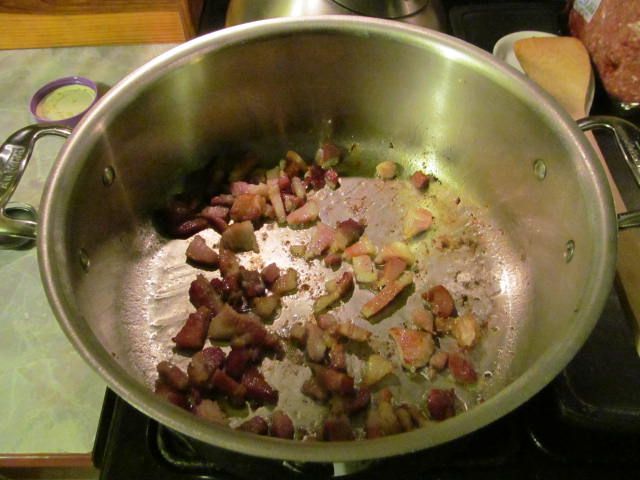 Veggies for saute...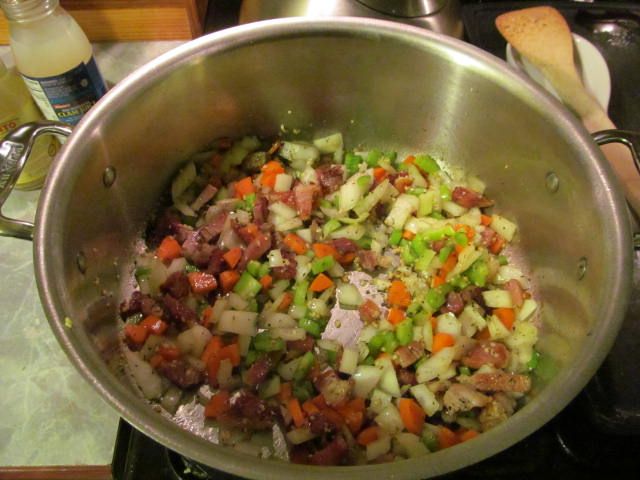 Add the flour...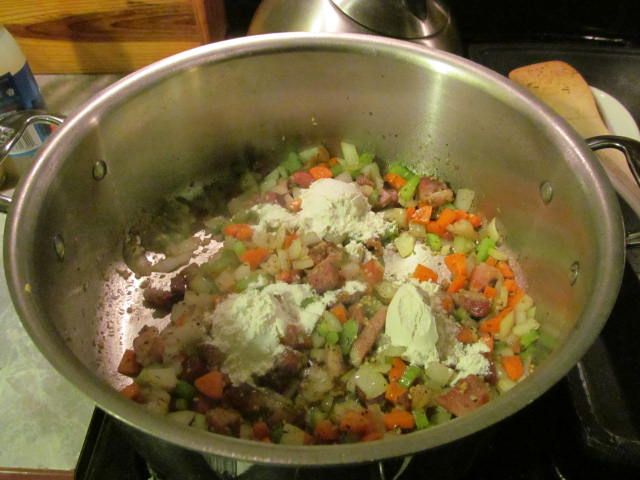 In goes the liquid and potatoes...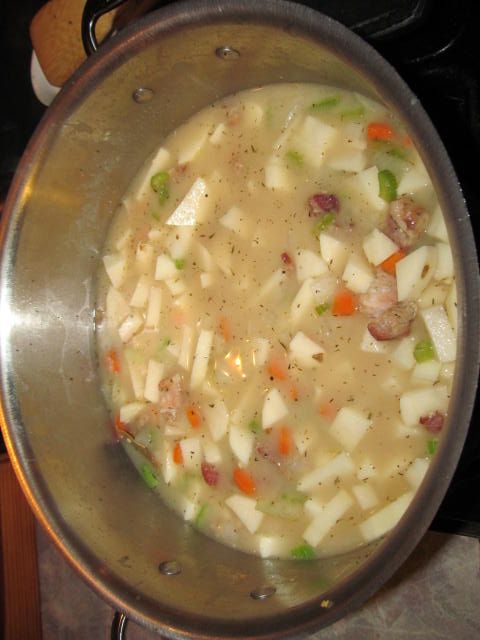 In goes the half and half and clams. Let simmer and cook down to thicken.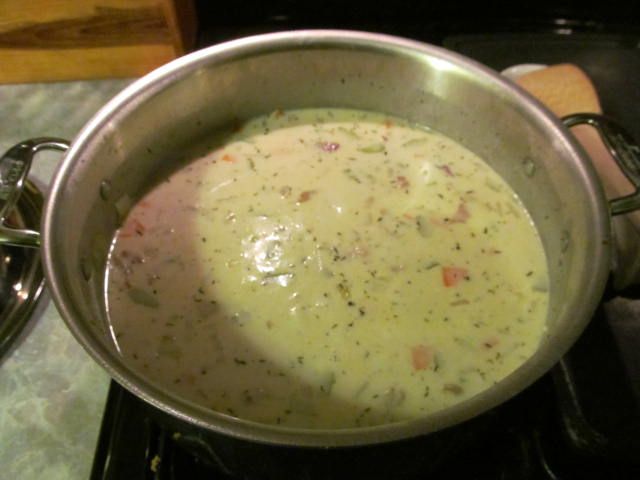 Full of great clammy goodness with a hint of the smoked bacon. Serve with a salad and crusty bread and you have something that everyone will love.
Thanks for stopping by...