BPart of the day one festivities at the Roc City Ribfest is a NEBS sanctioned contest with a theme: The World Bacon Championship. This year, the four categories consisted of; Bacon in a Box (no garnish, no applied seasoning or rub), Your take on a BLT, Beef Burger with Bacon, and Bacon Dessert. This year we teamed up with Sandy from Locked and Loaded BBQ to compete as Three Dogs BBQ for the NEBS contest. Lets go right to the entries.
First up, Bacon in a Box: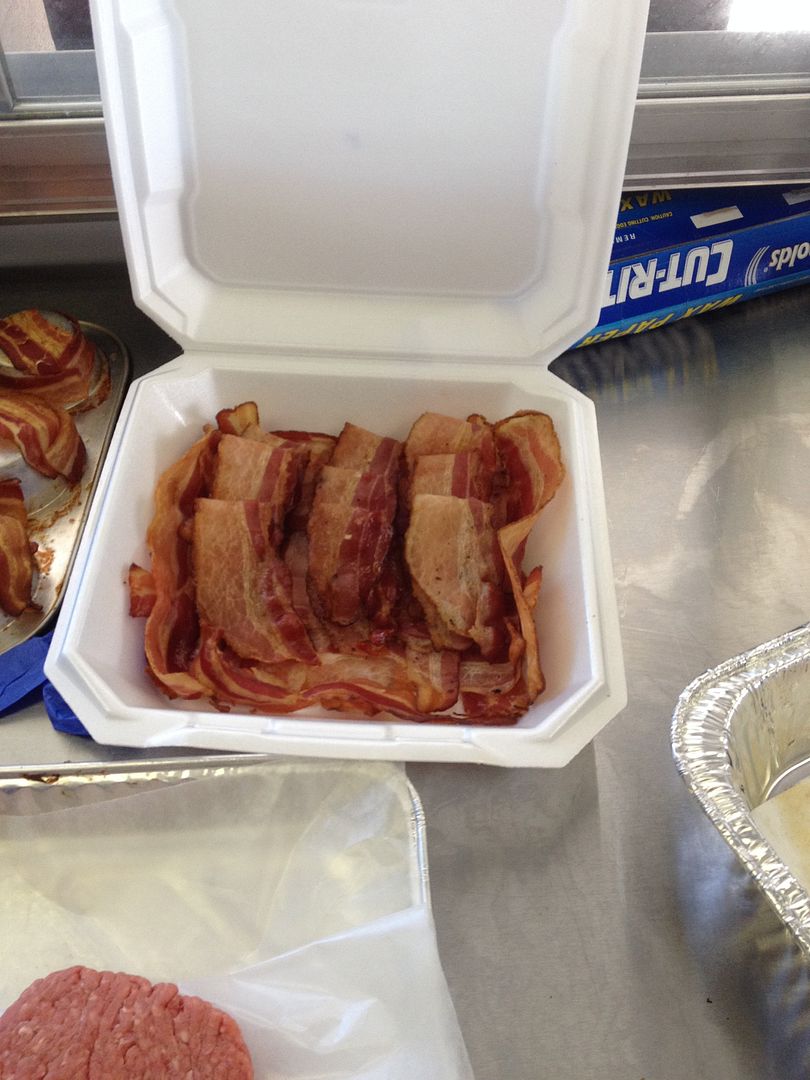 Who doesn't like bacon? Well, apparently the judges do not like ours. We placed 41st out of 44 teams. We did not do well last year as well. We have just used bacon bought at specialty smokehouses. To be honest, we are going to have to cure and smoke our own bacon next year. You are allowed to add seasoning during the cure process. Lots of teams cure and smoke their own bacon for this competition.
Next up, our take on a BLT: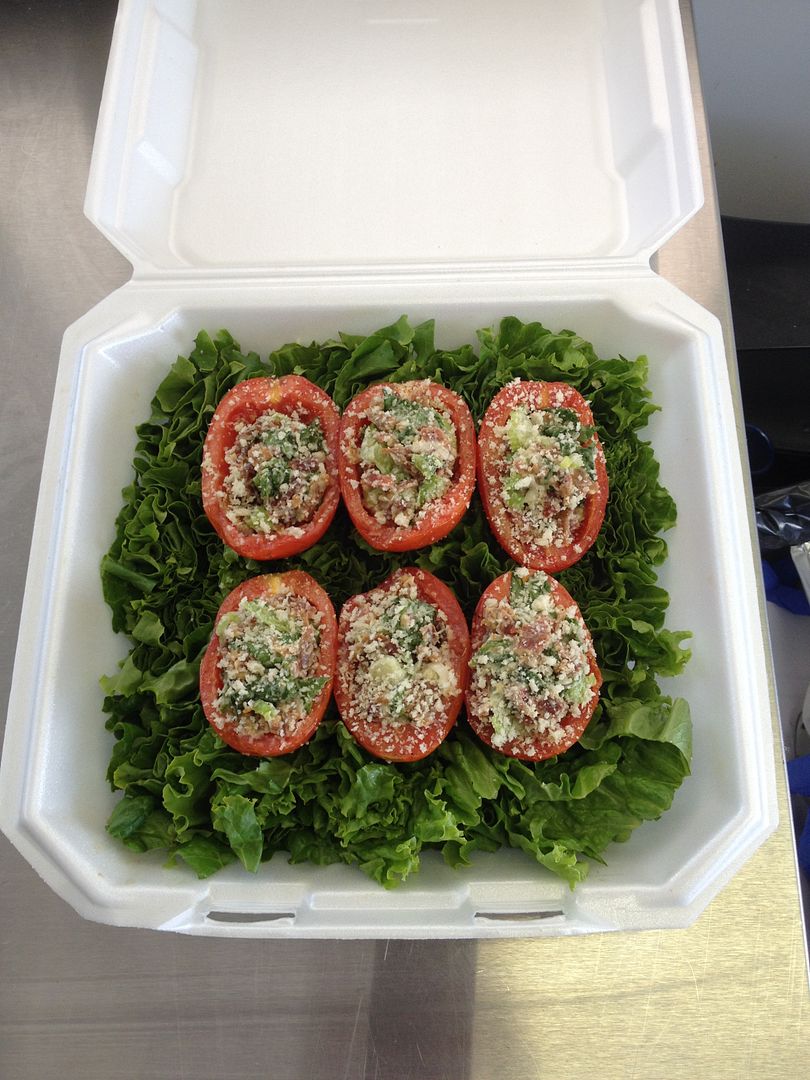 We went the stuffed tomato route. I sliced roma tomatoes and scooped out the pulp and seeds. Then, we coated with olive oil, salt, and pepper. I placed them in the smoker at 350 F, skin side up, for 10 minutes to get some caramelization on the tomato. Then, I filled with a mixture of crumbled bacon (cooked on the smoker), diced romaine, thinly sliced green onion, and mayonnaise. Once filled, we sprinkled panko bread crumbs on top. This was good for a sixth place out of 44. Our best showing of the day.
Next was the beef burger with bacon. This category was open platter, open garnish: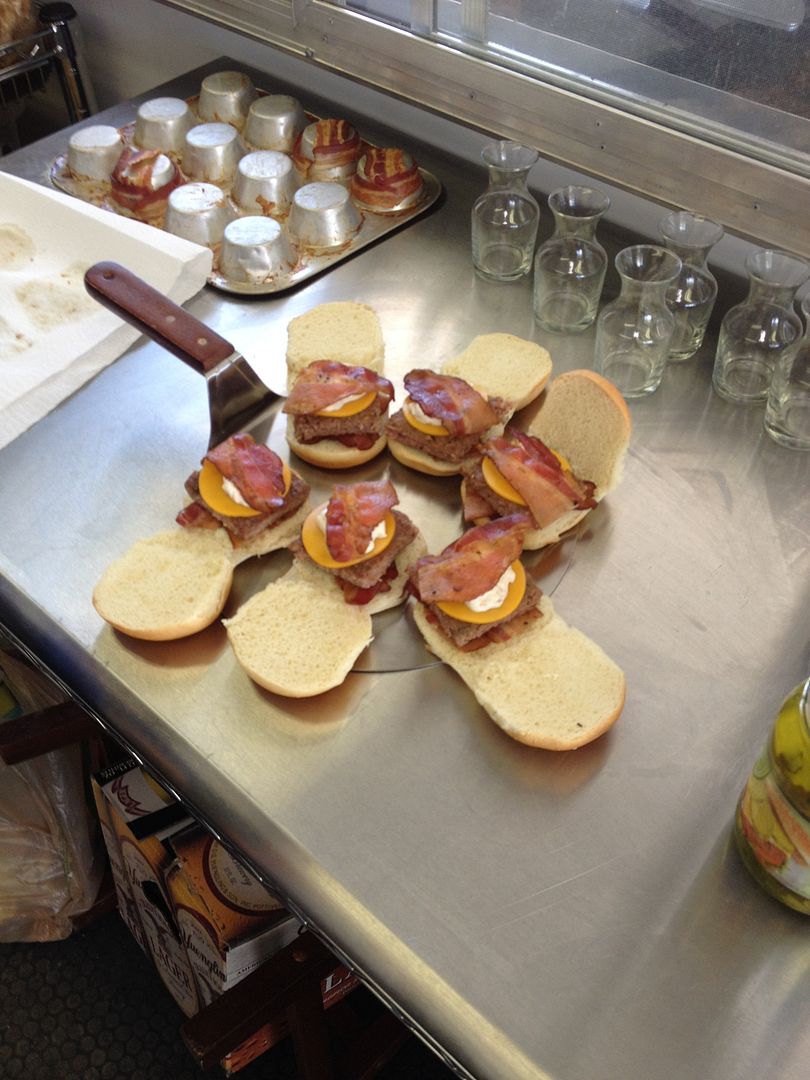 Slider sized burgers, grilled to perfection. We topped with bacon, BLT dip, and topped the bun with a dill chip. This entry scored 38th out of 44.
Finally, the dessert category:
Peanut butter, banana, bacon pie, topped with chocolate butter cream frosting, chocolate drizzle, and crumbled bacon on the butter cream. This scored 19th out of 44. Not bad considering desserts have been an issue for us in the past. We may not have won a ribbon, but at 1200 calories a slice, we at least facilitated a visit to the cardiologist for six judges.
So, overall, we placed 31st out of 44 teams. Congratulations go out to our Grand Champion, Delivering Smoke BBQ from Niagara Falls, Canada. They also scored a perfect 180 on their burger entry. Also, congrats to Diva Q, also from Canada, our Reserve Grand Champion. She scored a perfect 180 for their BLT entry.
As always, the fairgrounds were alive with the smell of bacon. Just imagine 44 cook sites focused on cooking four bacon dishes. It is a beautiful thing.
Finally, we would like to thank Sandy from Locked and Loaded BBQ for joining the Three Dogs BBQ crew for the day. It was a great time working with you. Let's do it again next year.

Thanks for stopping by,

Bill