Yesterday was a pretty nice day around here. Sun peeking through the clouds and occasional spring showers. The most important thing about the day was that it was in the 60's. All day at work I was thinking about what I could cook on the grill. I was also in the need of some pizza. So, I decided to combine the two and grill some pizza. So, on the way home, I picked up some stem tomatoes and odds and ends from the olive bar and ran home to prepare my creation.
First, Hope made a batch of our pizza dough in the bread machine:
Pizza Dough
3 1/4 cups AP flour
1 tbsp yeast
1/4 tsp sugar
1 tsp salt
2 tbsp olive oil
1 1/4 cups warm water
Put it all in a bread machine, yeast on the bottom, and let it sit through one raise cycle. Then pull out of the bread maker and cover with a clean towel for 15 minutes.
When handling the dough, spray your hands with cooking spray. You'll thank me later...
While the dough was rising, I took four cloves of garlic and crushed them up into some olive oil. I also added salt, pepper, thyme, oregano, and basil. I would use this as the white garlic base for my pizza.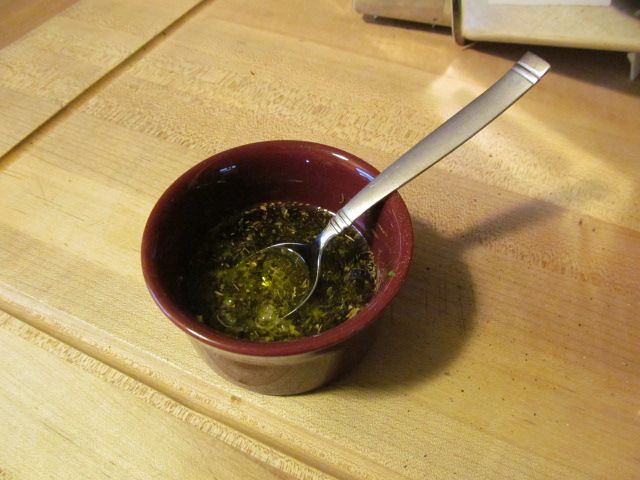 Then, I diced up my olives and marinaded mushrooms, sliced my tomatoes, and thinly sliced my fresh mozzarella ball as well. Once the dough was done it was time to get cooking.
I spread my chimney of lit briquettes off to one side of the grill and slid my cooking grates into place. Then, I put my baking stone on the bottom grate away from the coals. If you use a baking stone on your grill, place it on while the grill is heating up. If you put a cold stone on a hot grill you are prone to cracking it and that is not good. Once everything was nice and hot, I brought my pizza skin outside and placed it on the stone.
After about two minutes on the stone, the crust was rigid enough to slide onto the grate above the coals.
Be sure to pop the bubbles on your dough as it cooks. It will promote a nice, flat, crispy crust. After five minutes on direct heat, I removed from the grill and brought inside to add my toppings. I flipped the crust over so the topping would be placed on the browned side. Just a quick note here. Five minutes on direct heat would normally scorch a pizza crust. But, I am trying to get rid of some coconut shell charcoal. The bag says it burns hotter and cleaner. Guess what? It is not true. Once I get back to my normal Stubbs briquette, I will report back with proper cook times.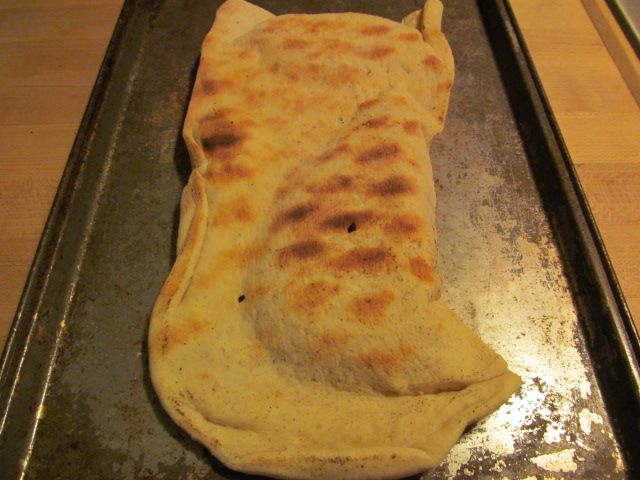 I brushed my crust with the olive oil/spice mix, then topped with thinly sliced fresh mozzarella, tomatoes sliced razor thin, and my diced olives and tomatoes.
Then, I took my pizza masterpiece to the grill and placed on direct heat.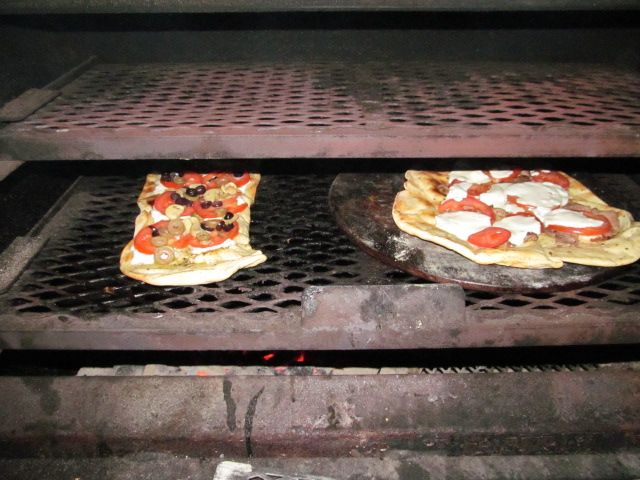 That is Hope's pizza on the right. She topped hers with the olive oil, tomato, mozzarella, and thinly sliced Eye of Round.
Once on the grill, I closed the lid. After five minutes, I came back and rearranged the pizzas so either did not spend too much time on direct heat. Then, I closed the lid and came back after five more minutes, pulled the pizzas, and brought them inside for slicing.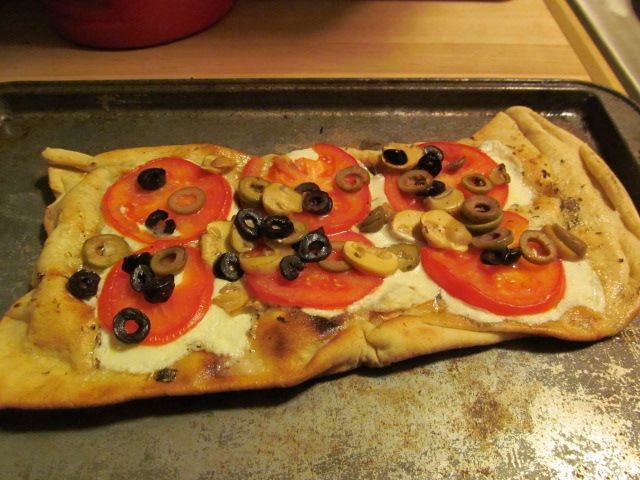 I topped mine with some fresh grated Parmesan cheese and pepper flakes.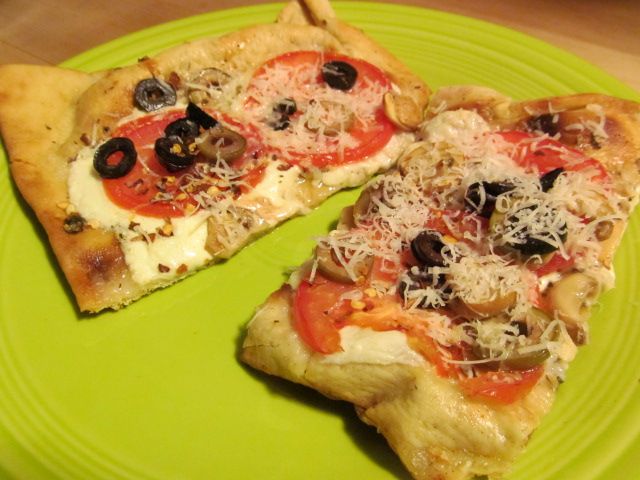 The crust was outstanding. Thin, crisp, with a bit of char. Not too much different from a oven baked pie. Yet, it was different in subtle flavors and textures that you can't get from a baking sheet in the oven. I can't wait until it warms up and we can get fresh veggies to use for future pizza nights. We will be making this again.
Thanks for stopping by,
Bill