After a long Saturday of KCBS BBQ, it was time to wind down, eat some dinner (NOT BBQ!), and prepare for Sundays NEBS Open Grilling competition. What is NEBS you ask? NEBS is the
New England Barbecue Society
. They sanction open grilling competitions that consist of four categories, one of them usually being a dessert course. They are judged by KCBS judges and have the same scoring as KCBS: scale of 0-9; appearance, taste, and tenderness are judged; 6 samples are prepared in a 9x9 clamshell for turn in; open garnish (you are not restricted to parsley or green leaf lettuce).
Personally, I like NEBS more than KCBS. KCBS is formula cooking. Once you figure out the formula, it pretty much stays the same until a new trend sweeps through the competition landscape. NEBS on the other hand allows for creativity. I believe this is due to the rotating categories. Every NEBS competition venue has its traditional category. In Rochester is is White Hots (smoked white hot dog). In Hamburg is it Chicken Breast. But, the other three categories always change. For Western New York this year, the categories were chicken breast, tri-tip, stuffed pepper, and bacon dessert.
Here were our scores: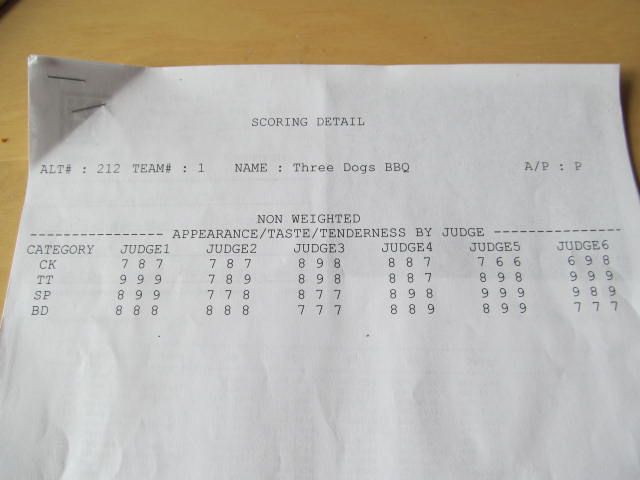 For the chicken breast, we took full, bone in breasts and marinaded in Chivetta's marinade. Chivetta's is a local product. Strong vinegar taste with added spices. We marinaded the breasts for four hours, pulled from the marinade and patted dry. We dusted the outside with Weber Montreal Chicken Rub and cooked on the smoker for 1 hour and 45 minutes at 300. For presentation in the box, we sliced the main part of the breast from the bone and placed in the box. Here is the final result: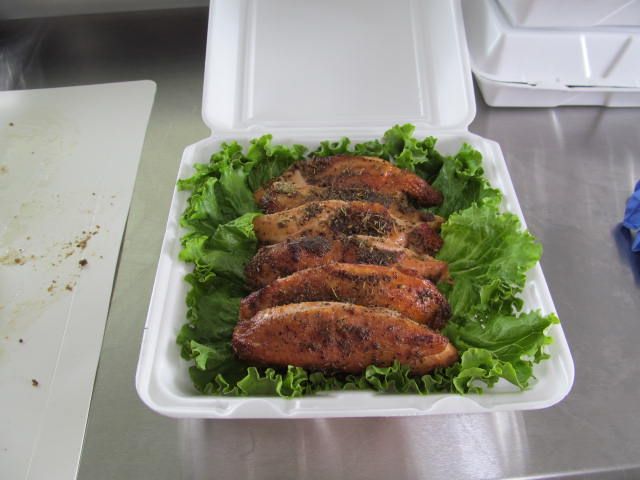 Overall, the above scored 158.2854, good for 18 out of 22. I believe there was too much vinegar flavor. The meat was spot on tender and juicy.
Next up was tri-tip. We went the minimalist route here. We marinaded the tri-tip overnight in one bottle of Stubbs Beef Marinade. Then, about an hour before grill time, we pulled the the marinade and put a light dusting of Oakridge Santa Maria Steak seasoning on both sides and let the meat come up to room temp. To prepare, we placed on a screaming hot Smokey Joe for 10 minutes a side. Then we pulled and rested for 15 minutes, then sliced. Here is the final result: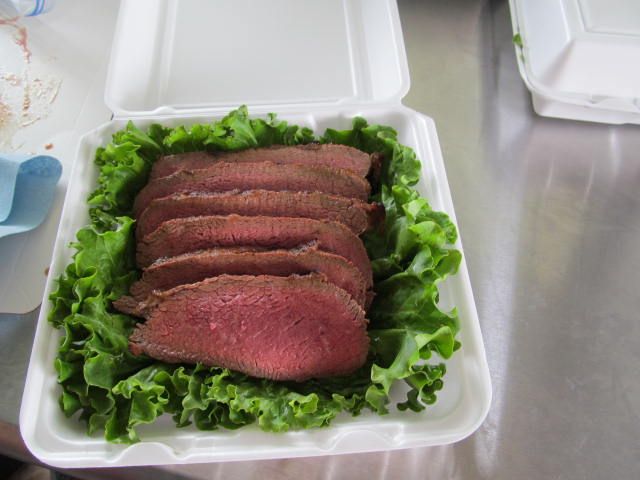 This scored us a 173.1430, good for 3rd out of 22 and good for a trophy with a cow on top...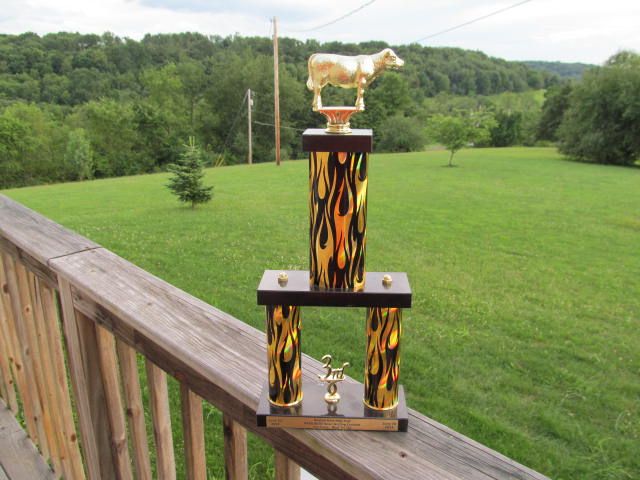 When we sliced the tri-tip, I was afraid it was too rare. Beef is like bacon. Some like it cooked more than others. But, I would rather error on the side of rare vs. well. It turns our our neighbors took 1st place with something right around medium. I will need to shoot for that in the future.
Next up was the stuffed pepper category. We took banana peppers, cut off the top and removed innards, and cut down to fit into a 9x9 clamshell box. Then, we marinaded the peppers in a bottle of Ken's Zesty Italian dressing. While the peppers were marinading, Hope made the stuffing. The stuffing consisted of a layer of thin sliced prosciutto, a layer of then sliced provolone, and a thinly rolled strip of sweet Italian sausage. Hope then rolled up the stuffing, placed in the pepper, and trimmed down to size. Then, they were placed on the smoker at 300 F for 40 total minutes and were turned over after 20 minutes. Here is the final result: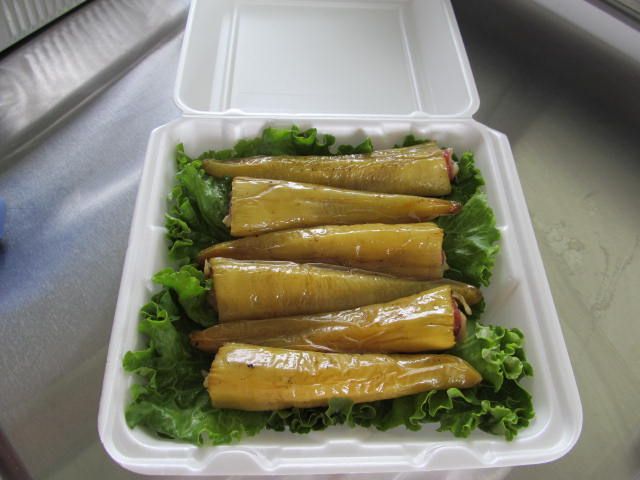 The above was good for a 168.5714, good for 12 out of 22. Usually a score that good will get you a top ten. Not today. Everyone turned in some great entries. The winner was Too Sauced to Pork with a perfect 180. When you take out the 180, 2nd place to 18th place were separated by only 10 points. Everyone brought their "A" game with this category. But, we were very happy with our entry for sure.
The final category was bacon dessert. Our one friend makes sinful scratch brownies. So, we followed her recipe and made the following modifications: we added 1/2 cup of chopped bacon to the batter and we spread crumbled bacon on the chocolate glaze before it set up. Here are some pics: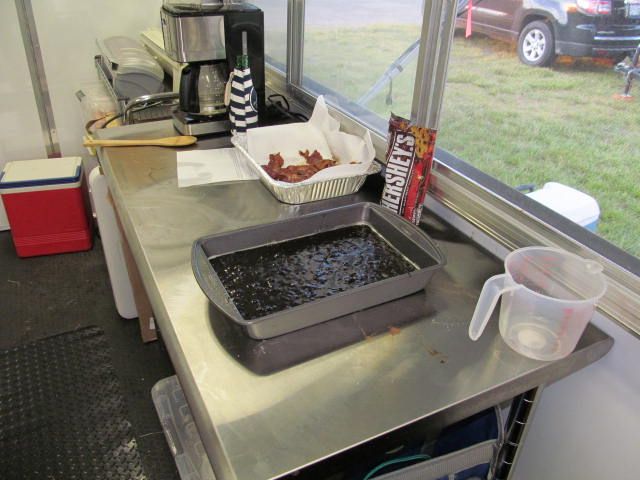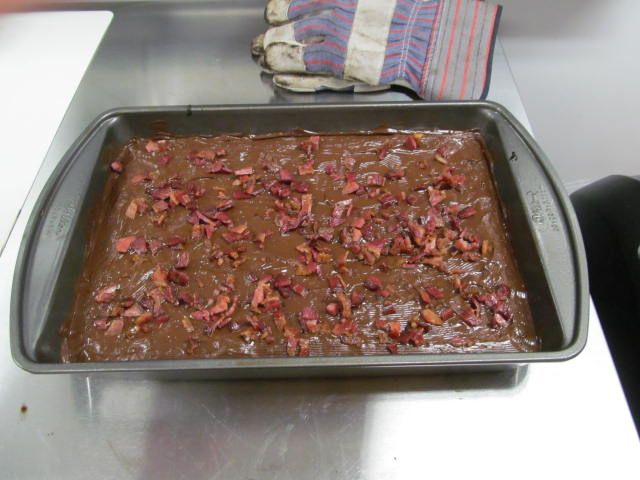 And here is the box for turn in: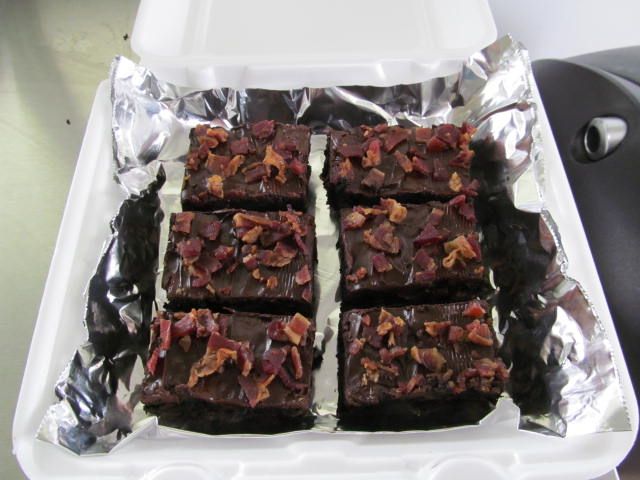 I was afraid that the bacon looked too waxy due to the time in the cooler. So, I placed the box on top of a hot smoker. When Hope checked the box prior to turn in, the bacon looked outstanding and she was pleasantly greeted with the aroma of bacon drifting from the box. Unfortunately, we scored 160.15714, which was good for 17 out of 22. That alone is ok with me. But, we received a comment card from a judge. Like I have said, I welcome comments. I don't think we get enough of them and 99% of the time, I can agree with the comment. But, our comment for the brownies was: "Had the appearance of store bought. Bacon was an afterthought." The bacon in the batter was a bit overpowered by the chocolate. I can agree with that. But, store bought? I can speak for my fellow competitors here, we strive to make it look perfect. That is why there is an appearance category. We want that 9 in the score column. Don't make assumptions or give comments that it looks "too perfect". Remember, we are striving for perfect...
Ok, off my soap box now. Those scores were good for a 661.1434 total, good for 13 out of 22. We are definitely looking forward to our next NEBS competition.
Here are some other pictures from the weekend: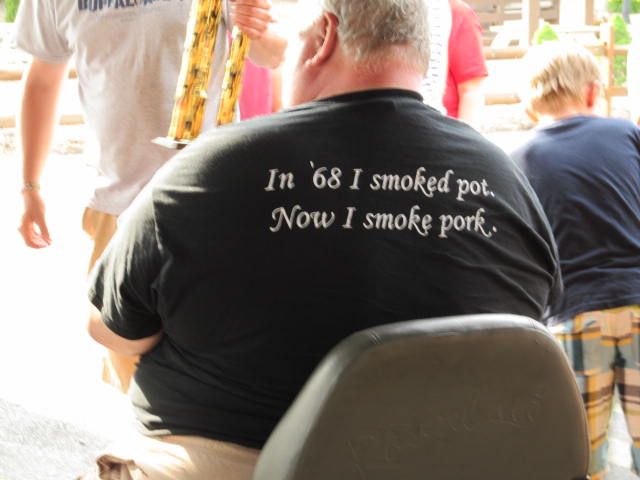 My favorite t-shirt from the weekend...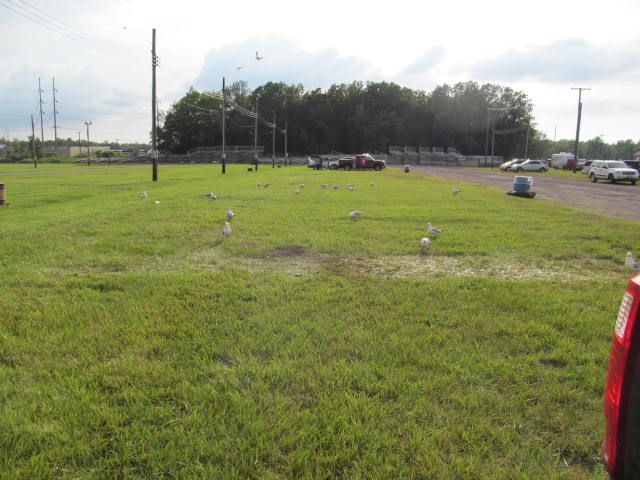 "Winged Rats" looking for tasty BBQ scraps as teams leave...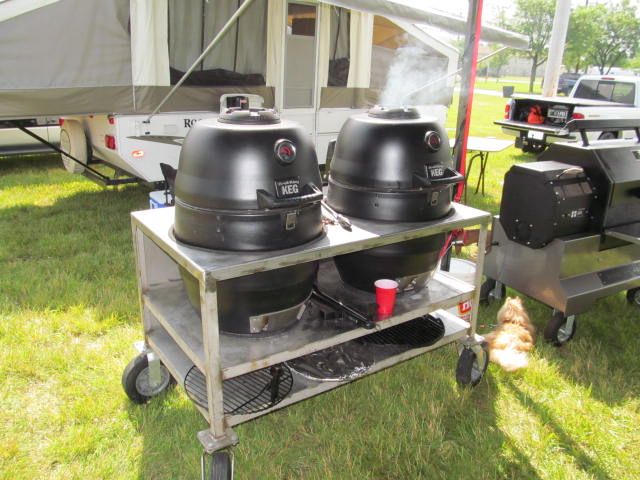 Our neighbors, Fumacious Q were using these cookers from Broil King. They a like a Big Green Egg, just made out of thin, ceramic coated and insulated metal in the shape of a beer keg. Very interesting and much lighter than a BGE.
My new dinnertime friend, Louis...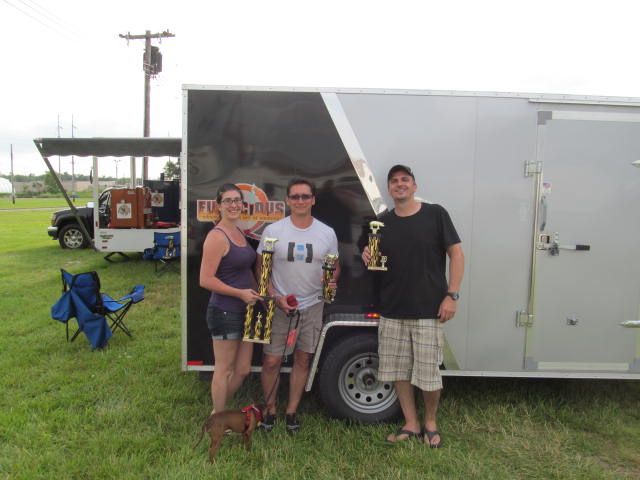 Our Canadian neighbors, Fumacious Q. Congrats on the 1st place tri-tip, and 7th place overall. Even though their pepper entry did not score well, I thought it was outside the box outstanding. They filled Anaheim peppers with scratch made bacon mac and cheese, then roasted. I will be trying those at home.
Finally, congrats to Hoof-N-Hog for taking Grand Champion and to Can't Stop Grillin' for their Reserve Grand Champion trophy.
Next up, Hudson Valley in August.
Thanks for stopping by,
Bill