Last weekend, Three Dogs BBQ competed in the
Western New York BBQ and Music Festival
. As always, we had a great time. Competitions are always where you catch up with old friends and meet some new ones as well. It was a bit rainy Friday night, but the sun came out in time for KCBS turn in times. I am happy to say that our trend of upward scores is improving: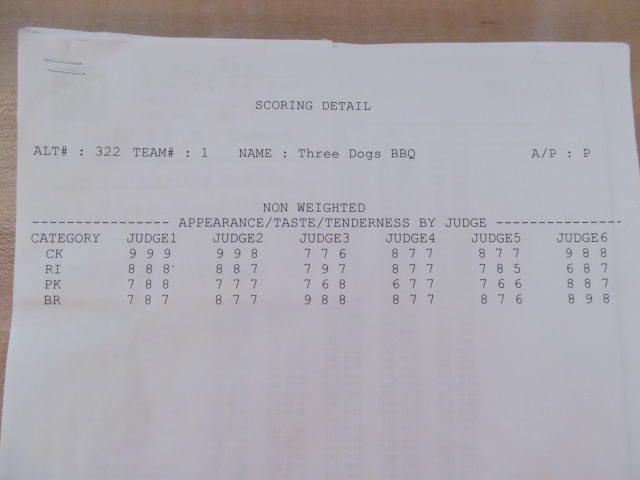 Chicken was solid as always. The ribs are improving with our new sweeter profile. We just need to work on tenderness and appearance. Pork is a sore spot. I believe that we have been overcooking our butts. So, I am going to experiment with pulling off earlier. Plus, we were a bit over sauced this time. Finally, the brisket held steady over our prior improvements. We actually salvaged this brisket. Our butcher forgot about our order and we ended up with a rush order brisket. Half was like shoe leather. But, I found six nice and tender slices to save the date. I just made the mistake of putting slightly chewy burnt ends in the box. Here are some pictures from the Friday and Saturday of the KCBS portion of the weekend: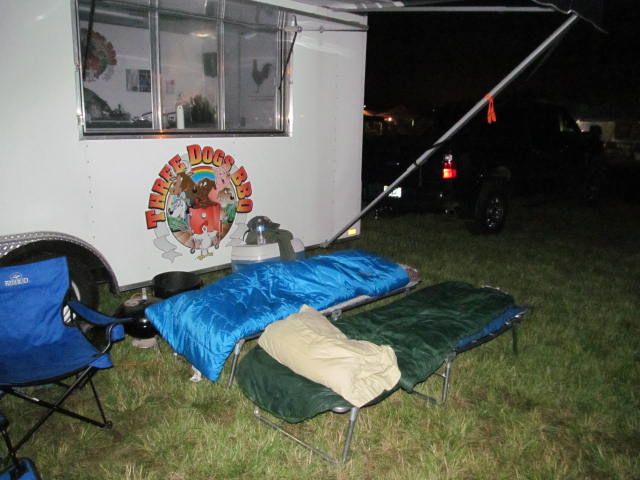 Deluxe sleeping arrangements, out of the steady mist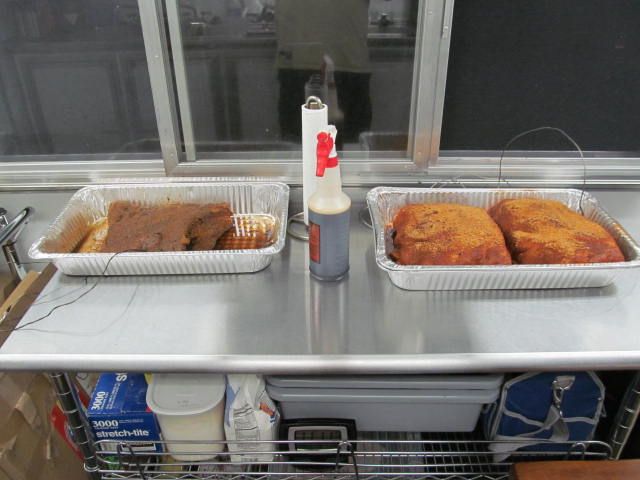 Butts and brisket getting ready for the smoker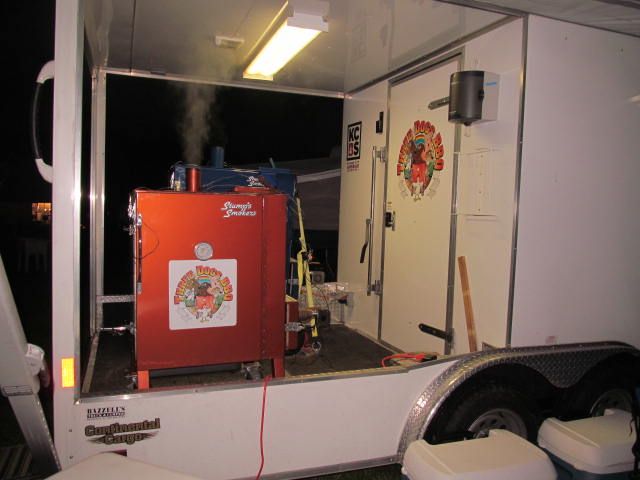 Smokers all loaded up with meaty goodness and thin blue smoke rolling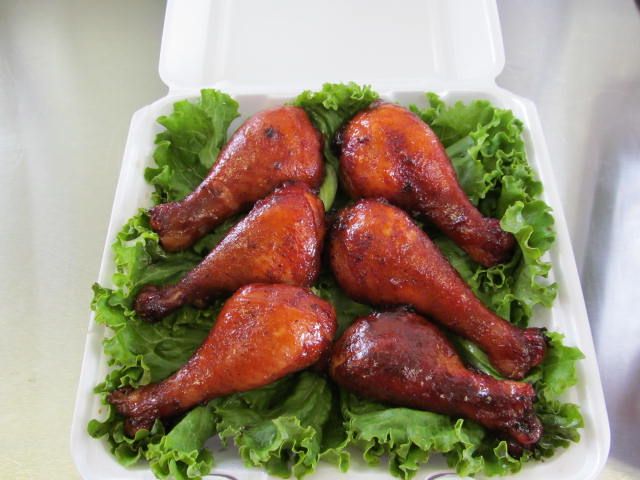 Chicken: 160.5714, good for 22 out of 49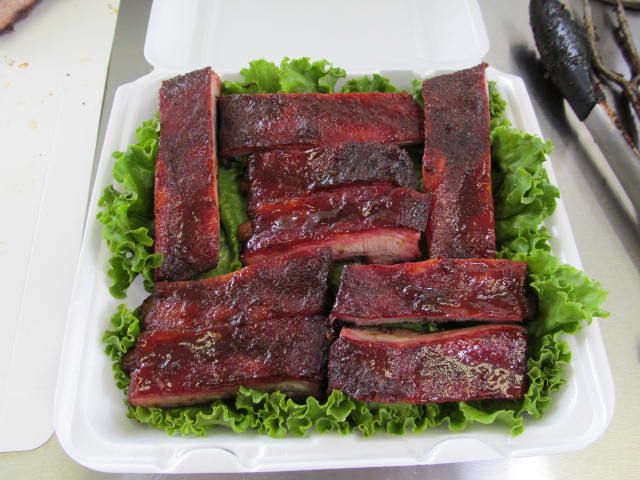 Ribs: 153.7146, good for a 10 point improvement over Roc City and 32 out of 49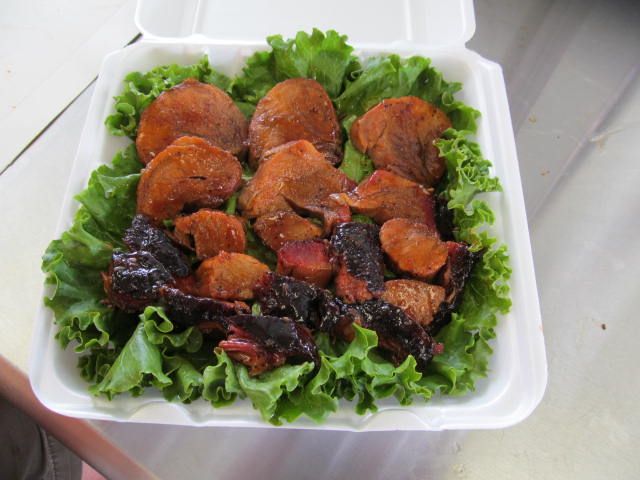 Pork: 144.5714, stayed the same from Roc City and a bit over cooked. Good for 41 out of 49. For the judge who said they don't like pineapple, there is none in our pork
Brisket: 154.2858, great slices, chewy burnt ends. Good for 26 out of 49
Overall we improved 5 points over Roc City for a 613.1432, good for 33 out of 49. This marks three competitions in a row we have improved our total score. I keep telling myself that baby steps is what it takes. Here is a list of the complete
results
.
After the competition, there was a public tasting for the Patchin Volunteer Fire Department. We served up bites of our BBQ for $2 each and the money went to the fire department. A good cause if you ask me.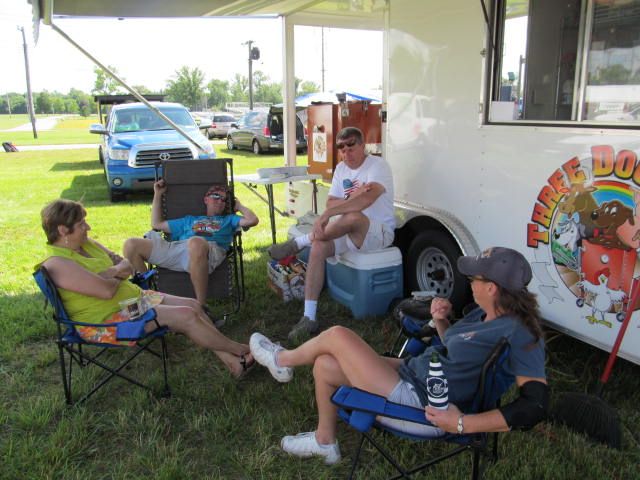 After the excitement, we cooled down with an adult beverage or two with our friends Mitchell, Judy-Ann, and Fred from All Fired Up and Kicking Ash.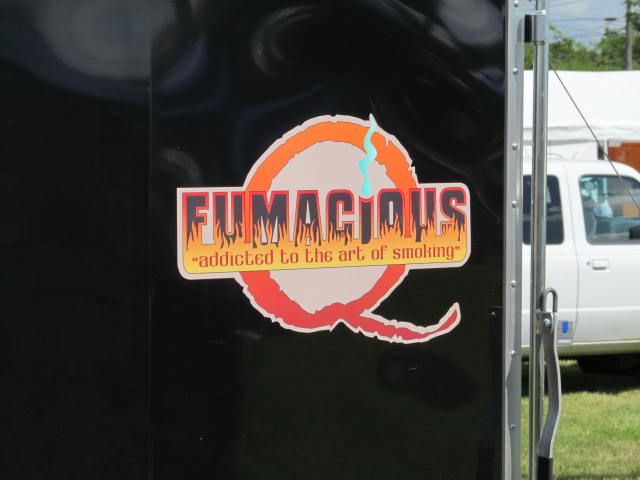 Our Canadian next door neighbors.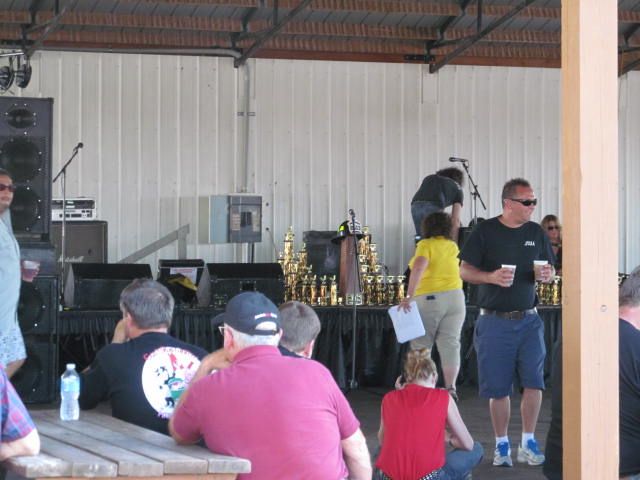 Congrats to Fatty Mac Barbecue for winning their first ever Grand Championship. Thanks for waking me up at midnight with all that hootin and hollerin, but I can't say that I wouldn't be doing the same if we ever win a GC. Again, congrats, you earned it!
Congrats also go out to Priorville for winning the Reserve Grand Championship. You have had a steady year. Keep up the good work.
Finally, I can't say enough about the event organizer, Mike Cartchine. Very friendly and team oriented. The Western New York BBQ and Music Festival is the most team friendly competition we have ever attended. Free unlimited ice. Clean hot showers. Unlimited team space with water and electric that actually works. Free beer and pizza. What more can you ask for? Thanks again!
Now we have some down time to our next competition. Time to fine tune our pulled pork and keep the upward trend of our scoring.
Thanks for stopping by,
Bill