Most BBQ competitions in New York are a two day affair. One day is the traditional KCBS competition. KCBS is the traditional smoked chicken, ribs, pork butt, and brisket. Rules do not allow for much variation. But, day two is usually a
New England BBQ Society
competition. These contests consist of four entries that change from year to year and contest to contest. Garnish is open and creativity is encouraged. Basically, it is a throw down between teams. Whose backyard recipe is the best.
While the KCBS part of the weekend was successful for us, NEBS was not so successful.
The categories this year were Pizza,Wrapped in Bacon, Salmon, and Apple Dessert. The Pizza and Apple Dessert categories are traditions at New Paltz. The other two categories rotate from year to year.
We were hopeful entering this contest. But, success was not to be. Why? Keep on reading.
Our first entry was a Reuben Pizza. Fresh made rye crust, Thousand Island dressing, homemade sauerkraut, corned beef, and shredded Jarlsberg cheese. A delicious entry if I say so myself.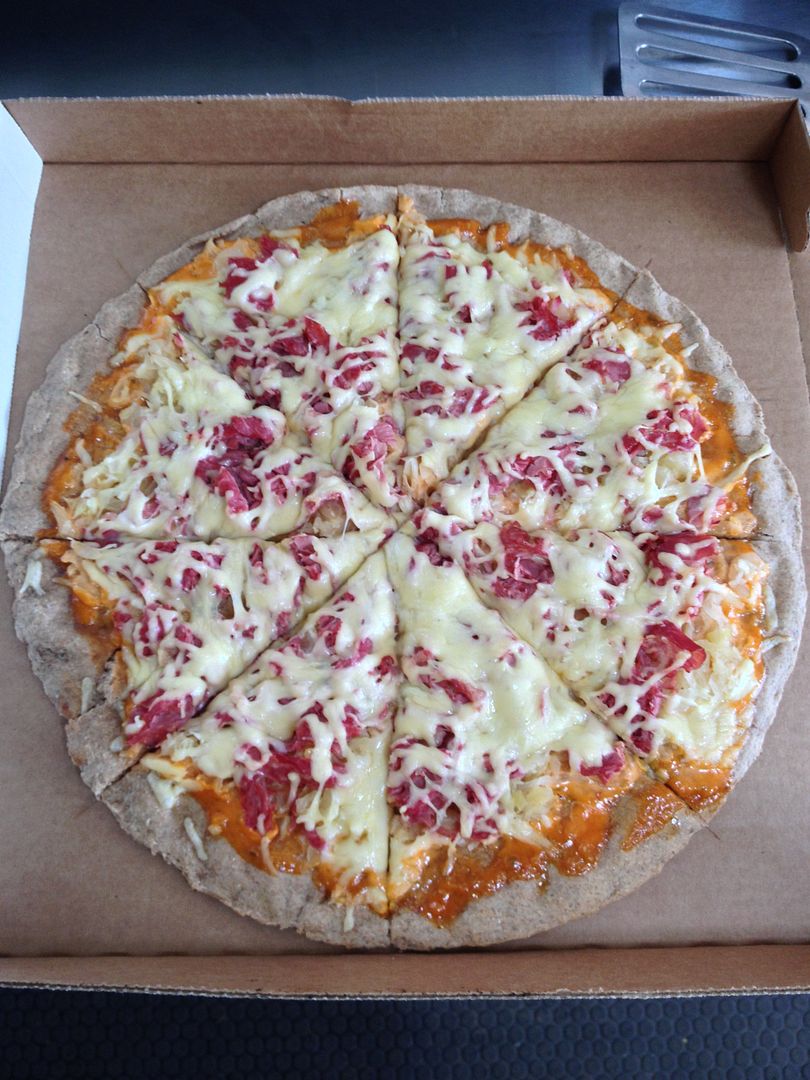 It was just not meant to be. We were DQ'd for turning in 19 seconds late. Why were were late? Well, the clock the contest reps use is radio powered. It syncs with the same time signal your cell phone gets. Service is spotty in New Paltz and at the 8 am time check, my phone was a minute and a half fast. No problem. Mental note. Someones clock must have found the signal along the way and synced to the correct time, hence we were late. Our first DQ in three years. It happens to the best of us and it was our fault for cutting it close. My only comment is that there were five DQ's for late turn ins on Saturday. It is rare to have one. Five is unheard of in competition. Who knows what happened. Lesson learned.
Our Wrapped in Bacon turn in was our
Mega Meat Dog
. This time we used ground round, seasoned with brisket rub. It looks quite good.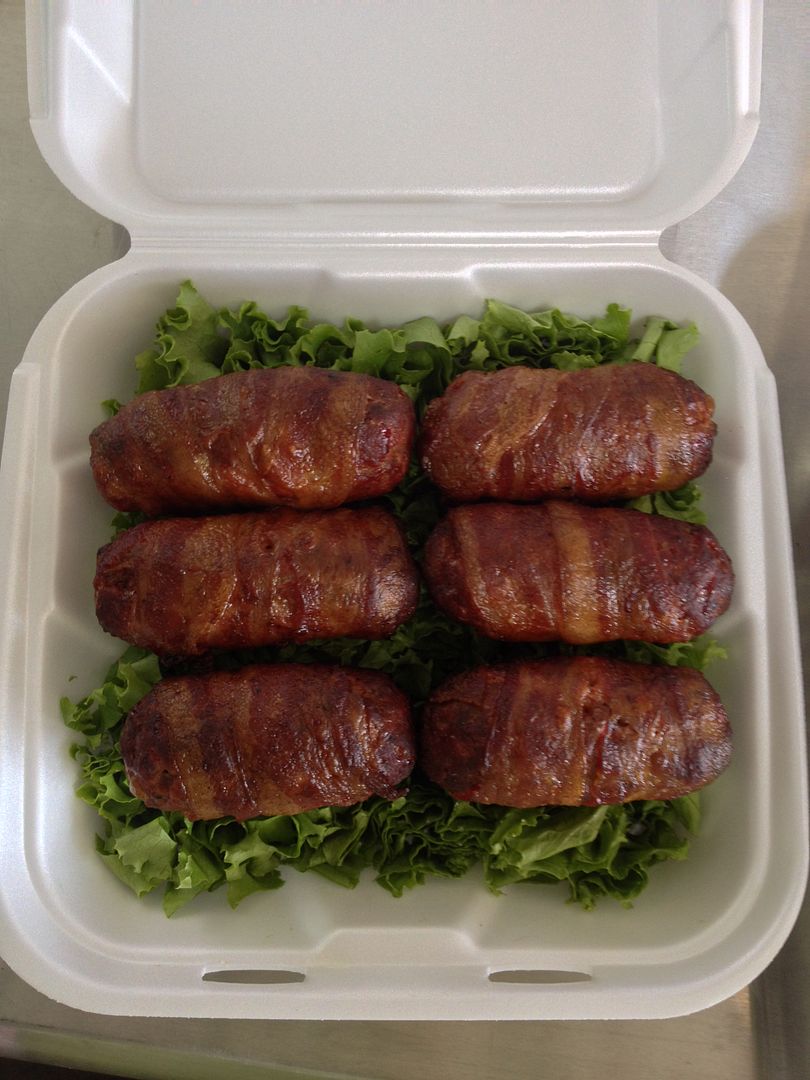 This box was 20th out of 27 teams. The ground beef ended up a bit dry. I think we will be retiring this recipe for competitions in the future.
Next up was apple dessert. We entered an Apple Bourbon Bread Pudding with Butterscotch Bourbon Sauce.
We loved it. The teams around us loved it. The judges, not so much. This entry came in 22nd. Time to retire this recipe and go back to our Apple Blondies next year.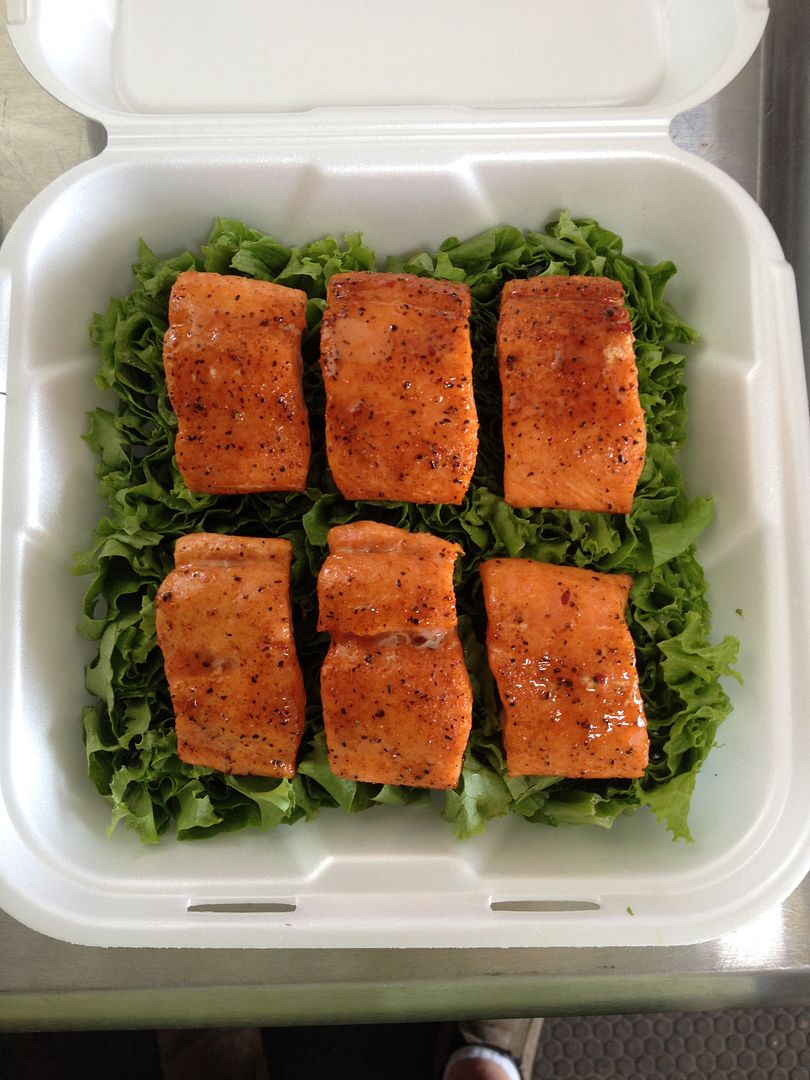 We had a little bit of redemption on this entry. Our salmon was good for 11th out of 27. The skin did not get a crispy as I would have liked and I think it hurt us. With some tweaks, I think we can do well with this in the future.
Overall, we finished 26th. While we did not fair well in the standings,we did have a fun day. Our friend Ben who has moved to the area came up for the day to hang out with us and help when needed. He was quite impressed at how serious the teams are that compete. He thought we drank beer and cooked stuff on a Weber kettle grill. Ben now has an appreciation for what competition teams do to succeed.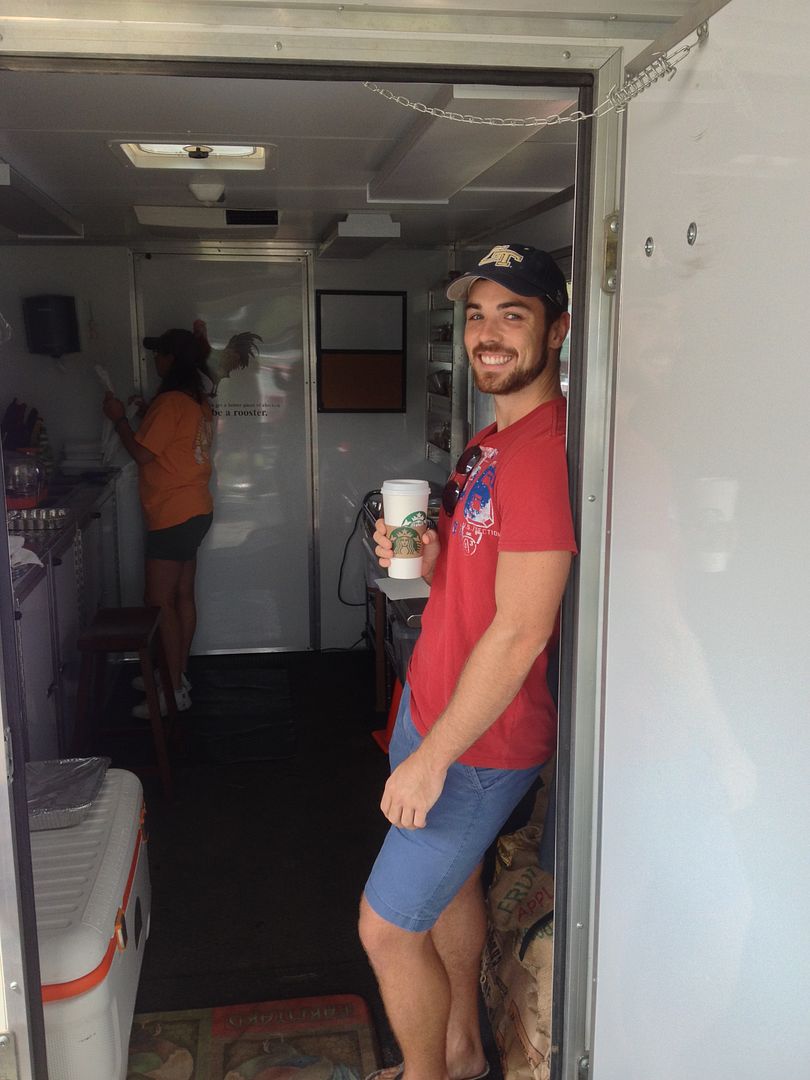 Even though we did not do well, Ben did help us to be more stylish as you can see.
Congrats to our Reserve Grand Champions Blazin' Butts and to our Grand Champions Good Smoke BBQ. Brian and Kelly have been tearing up NEBS competitions this year. We are going to have to make it a point to stop by their restaurant and sample their menu. Keep up the good work!
Thanks for stopping by,
Bill