We love our dogs. Generally, they are not allowed on the furniture. But, you know how it goes. There is that unspoken agreement. We are going to sleep on the couch at night. When the alarm goes off, we will get down. Kinda of like "Don't ask, Don't tell" with your dogs. Well, I woke up a few weekends ago for an all day smoke for some pork butt practice. I did so without the alarm to wake me up. Look who I caught red handed...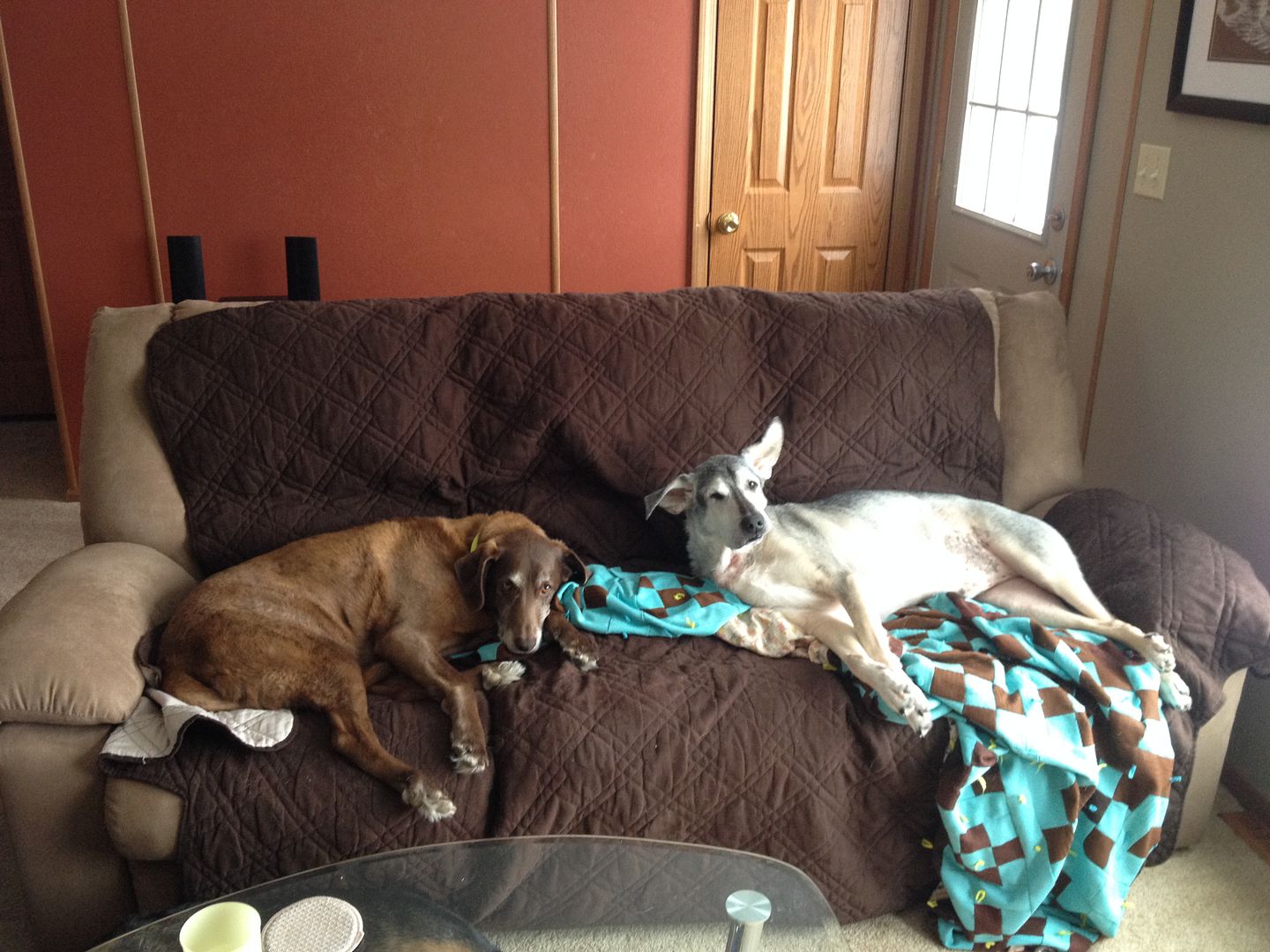 Now, on to our experimental pork butt.
Last year, after we had received comments that our pork butt tasted too much like injection, we entered a pork butt without any injection at all. Then, we scored a 3rd place. Our brisket scores improved when we stopped using the packet of au jus mix in our injection, netting us a 5th place. So, we are experimenting with a pork stock injection. Here is how we make our pork stock.
2 lbs of country style ribs
1/2 sweet onion
2 carrots
2 ribs of celery
1 tbsp of dried parsley
2 cloves of garlic
1 gallon of water
Bring to a boil and simmer for 12 hours. Chill, strain off fat, and freeze until ready for use. I froze in two cup packages for my anticipated injection recipe. For our injection, we formulated the following:
2 cups of pork stock
1 bottle of Stubbs Pork Marinade, strained to remove the solids
1 cup apple juice
1 Tbsp sea salt
3 Tbsp of butter
Bring to a boil and chill so that it is safe to inject into your pork butt.
We picked up our butt at the butcher. It was a beauty at 8.25 pounds. We always use bone-in.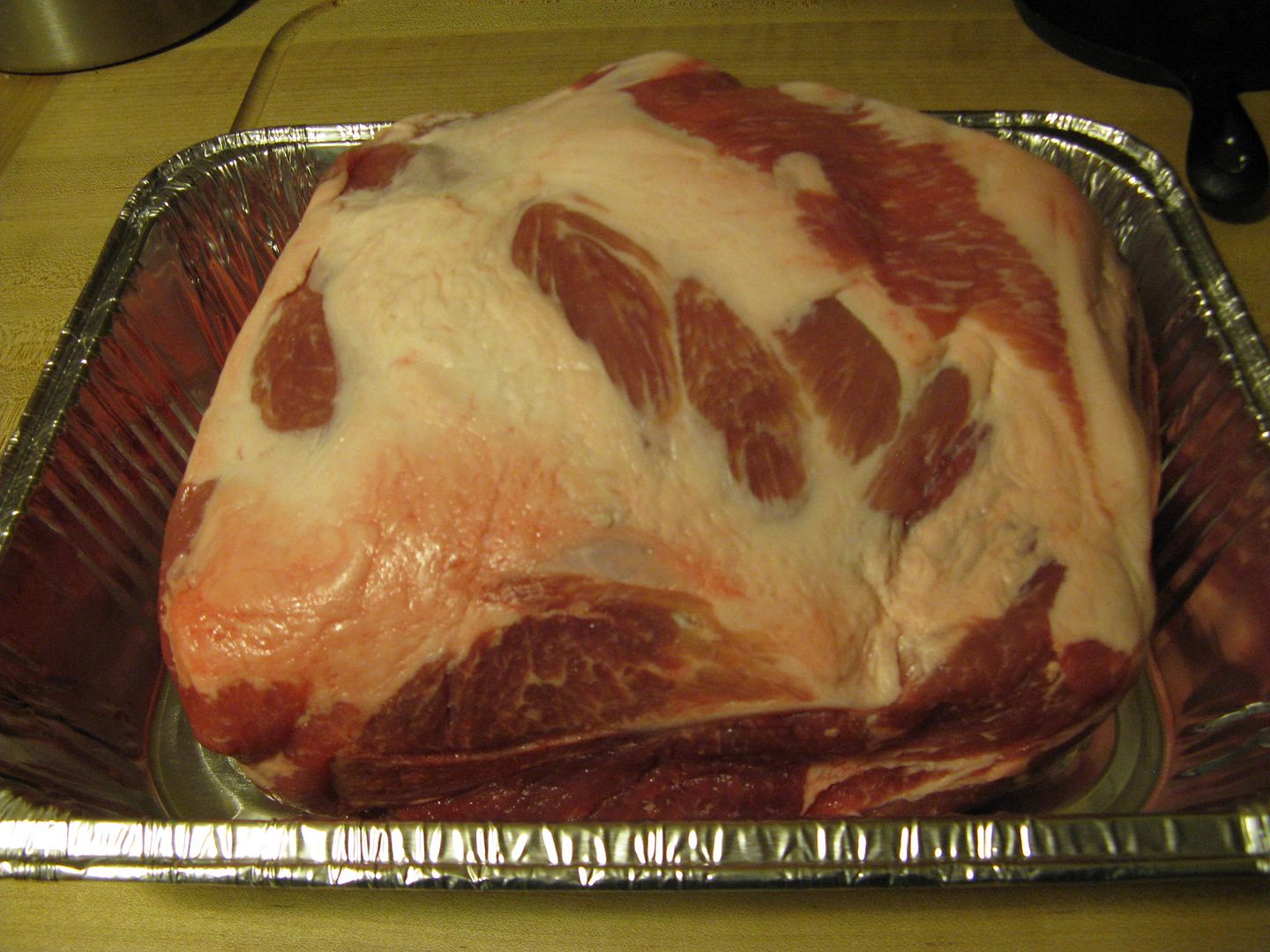 After injection, we applied a fresh coat of plain yellow mustard. This adds some tangy flavor and helps the rub to stick to the meat.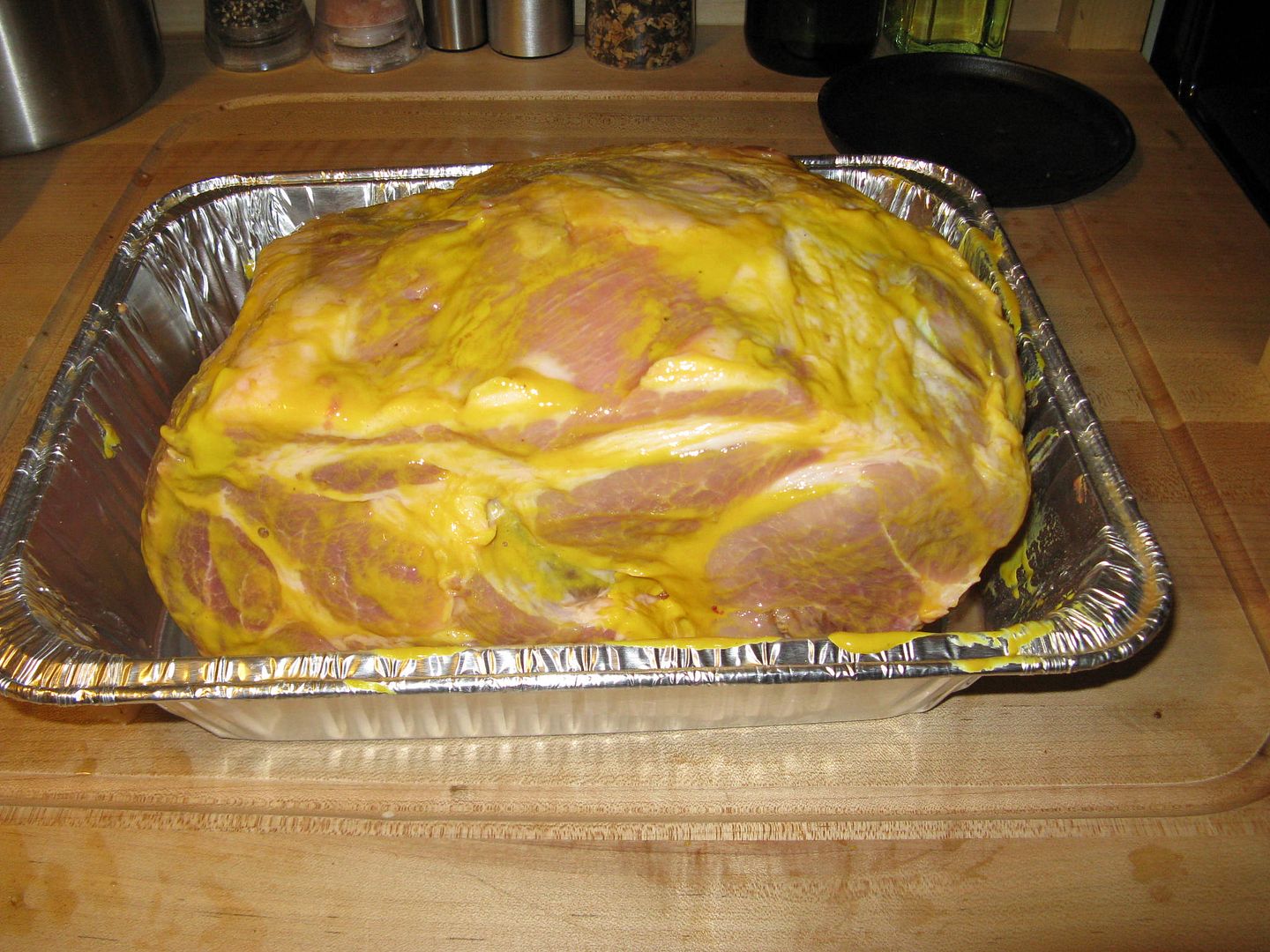 Then, we mixed 1/2 cup of turbinado sugar with 1 cup of Oakridge Secret Weapon Pork and Chicken Rub and applied evenly to all surfaces of the butt.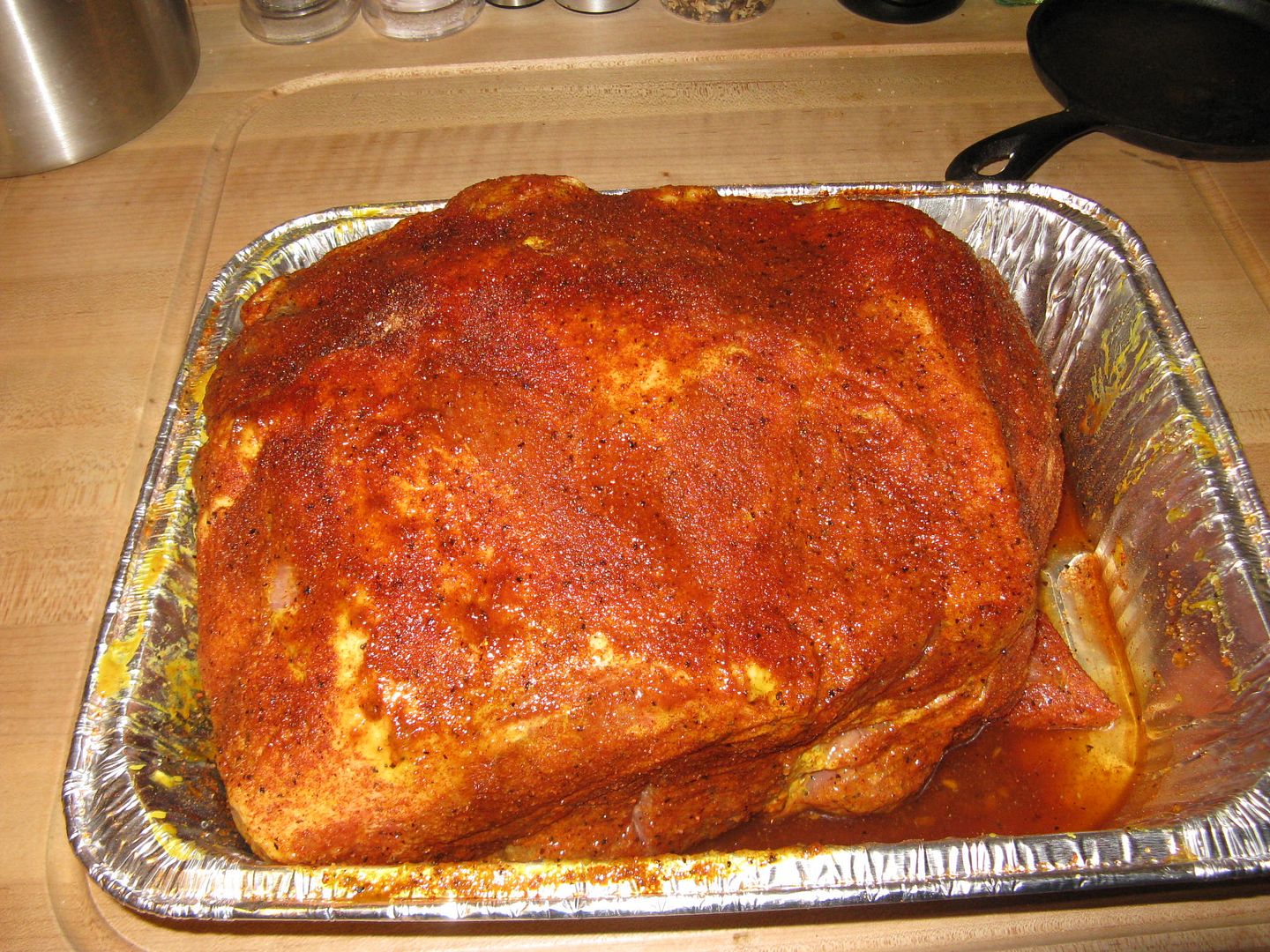 We wrapped the panic foil and placed in the refrigerator for some overnight happy time.
In the morning, I woke up and caught the dogs red handed. Then I went outside, started the smoker and brought to 225 F. We wanted to try low and slow for this cook since it worked so well for our last brisket. While the smoker was coming to temperature, I took the butt out of the frig, applied a fresh coat of rub, and inserted the temperature probe in the meatiest part of the pork butt.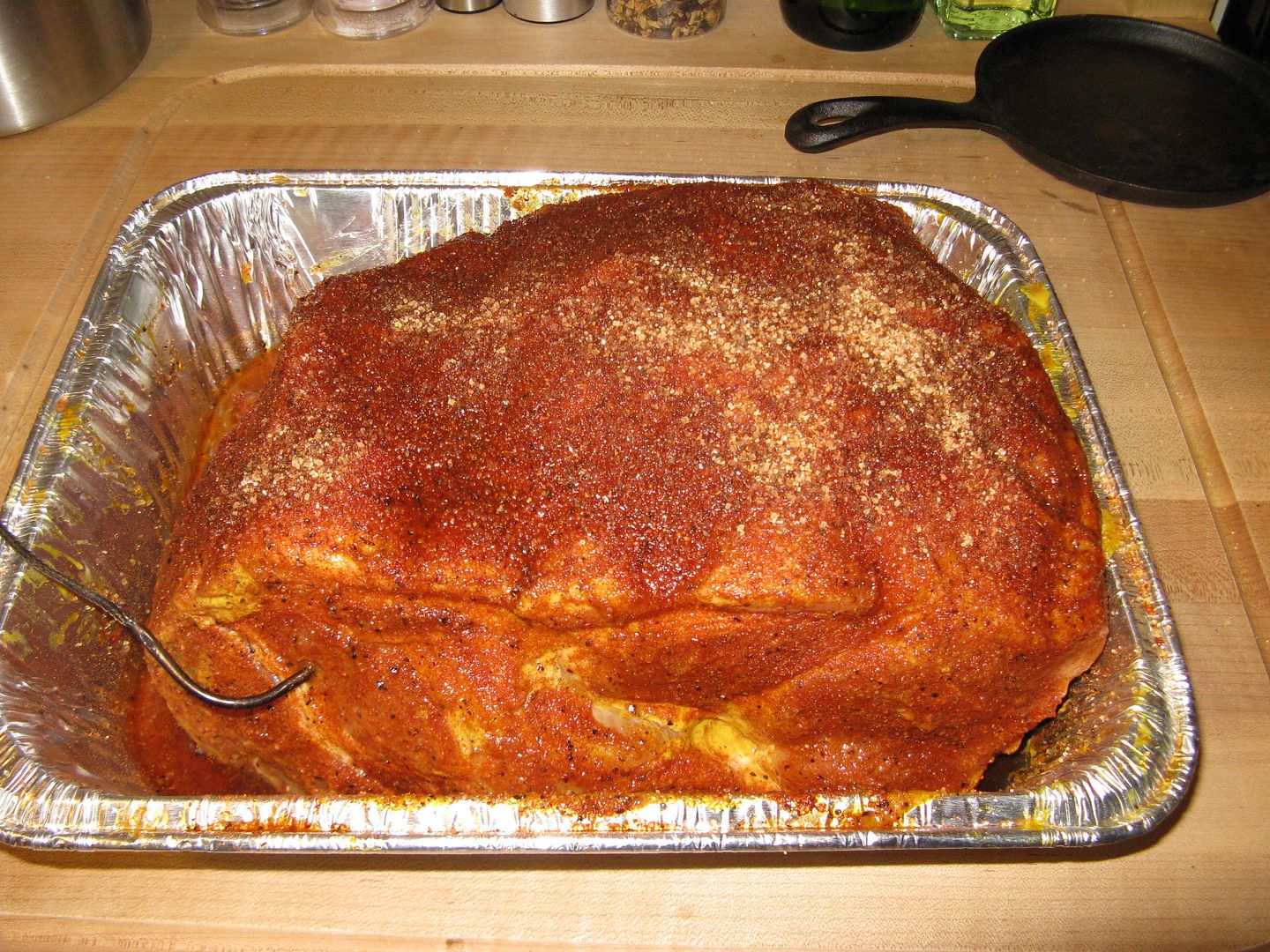 Once the smoker was at temperature, I placed some hickory, pecan, and apple splits in the ash pan. Once the smoker was rolling with that thin blue smoke, I placed the butt on the top rack. Here are our cooking notes:
8:00 am, placed butt on top rack of smoker.
10:00 am: reloaded ash pan with wood.
12 noon: 140 F
2:00 pm: 159 F
4:00 pm: 164 F, pushing through the dreaded stall (All meat when cooked at low heat experiences a stall in temperature rise. This is usually where all of the protein is breaking down, producing that tender meat you associate with pulled pork)
5:39 pm: 175 F. Placed butt in foil pan and covered tightly with foil. Here is a picture before foiling.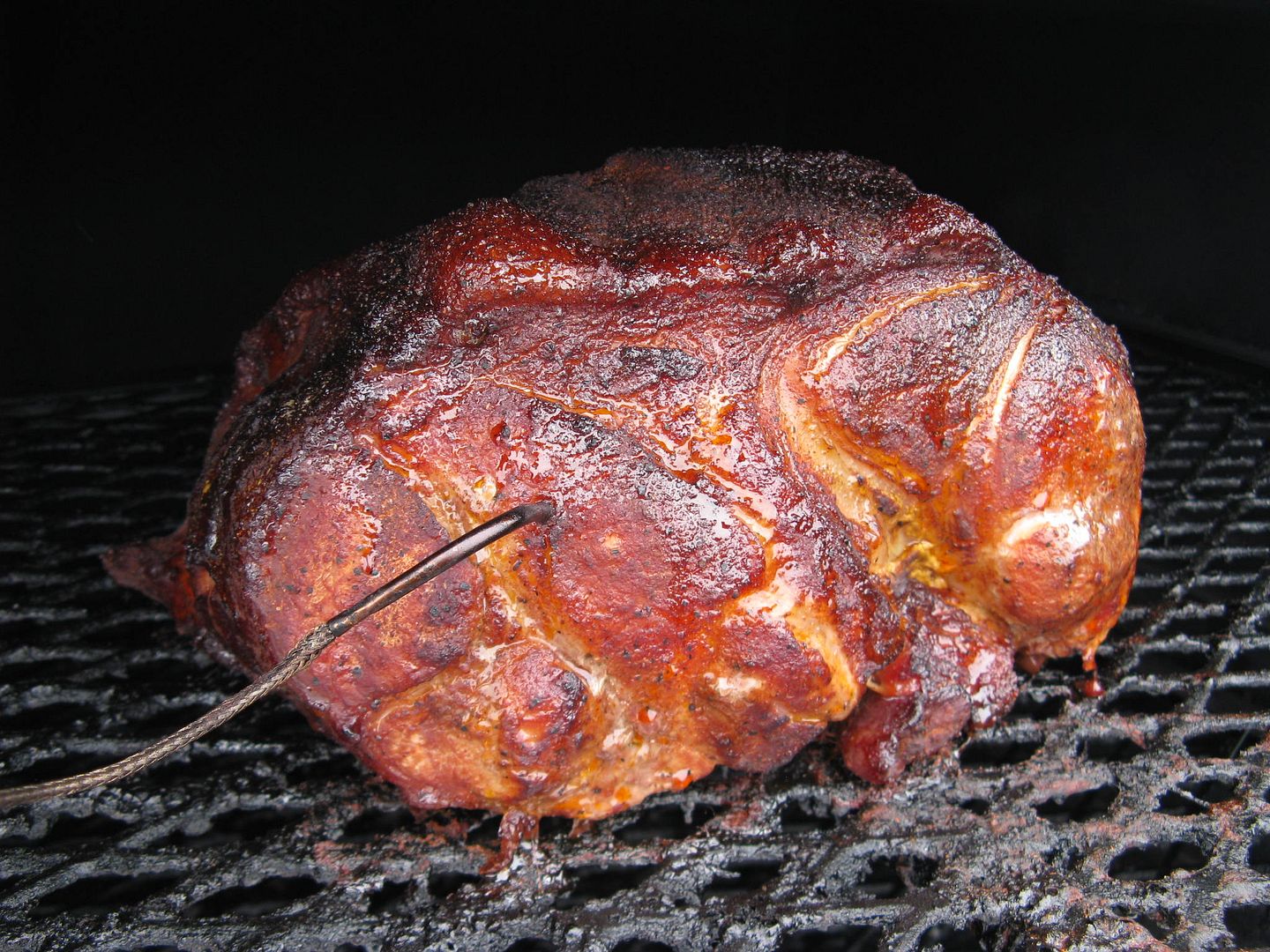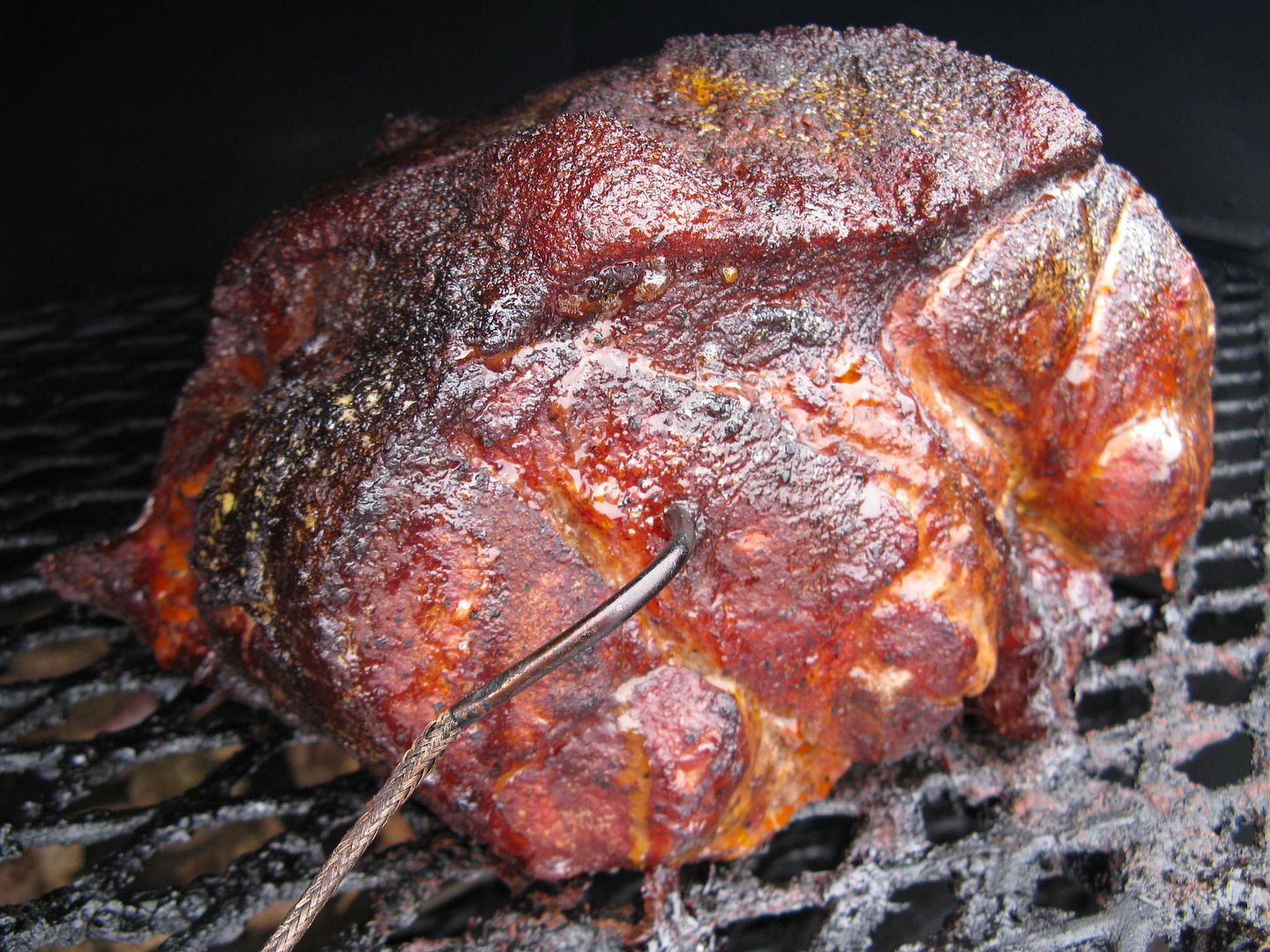 Look at that beautiful bark!
7:24 pm: 190 F. Probed with Thermapen. Meat is like warm butter. Pulled and placed in a cooler to rest for two hours.
9:30 pm: Removed from cooler, pulled and sliced.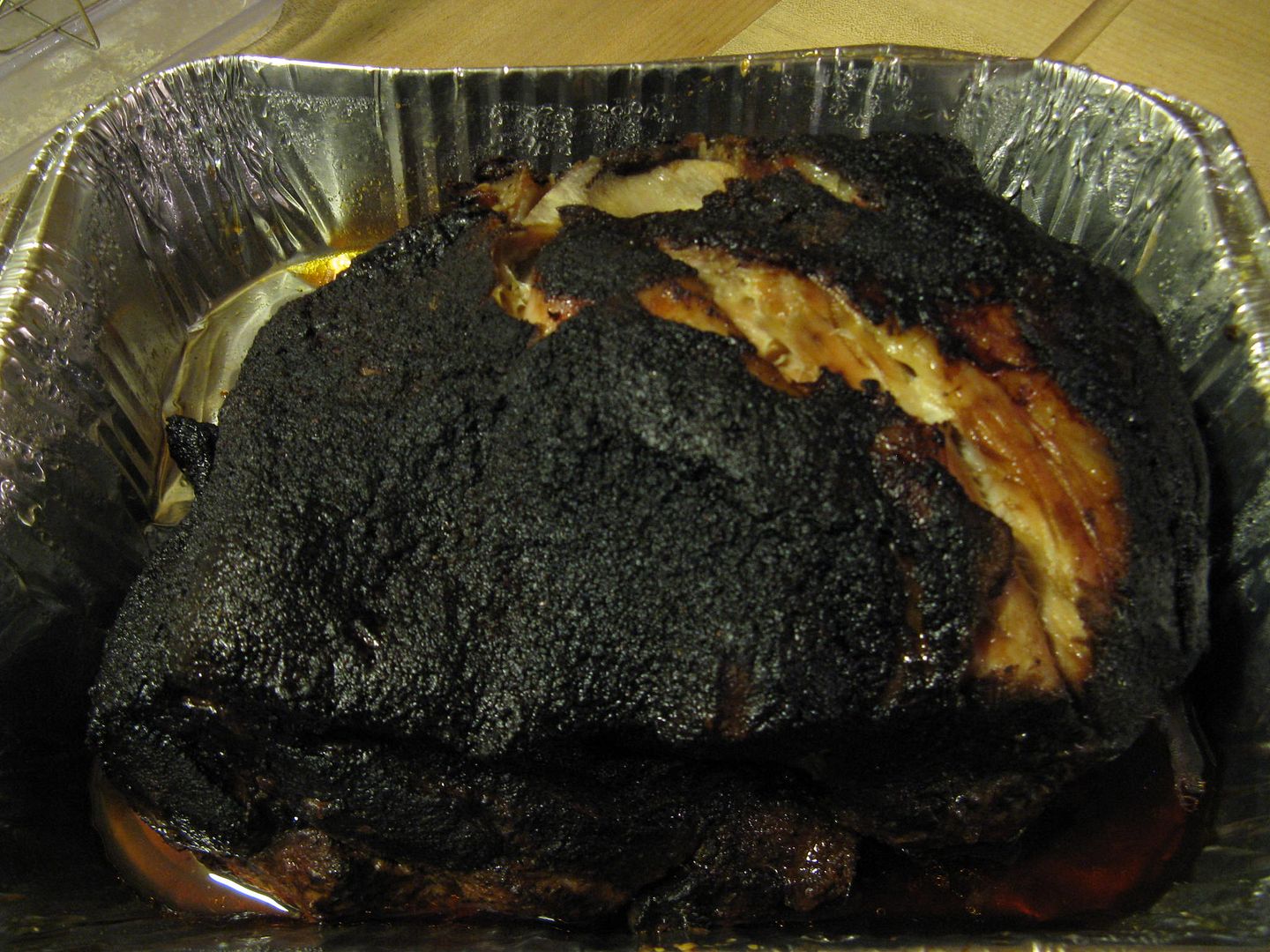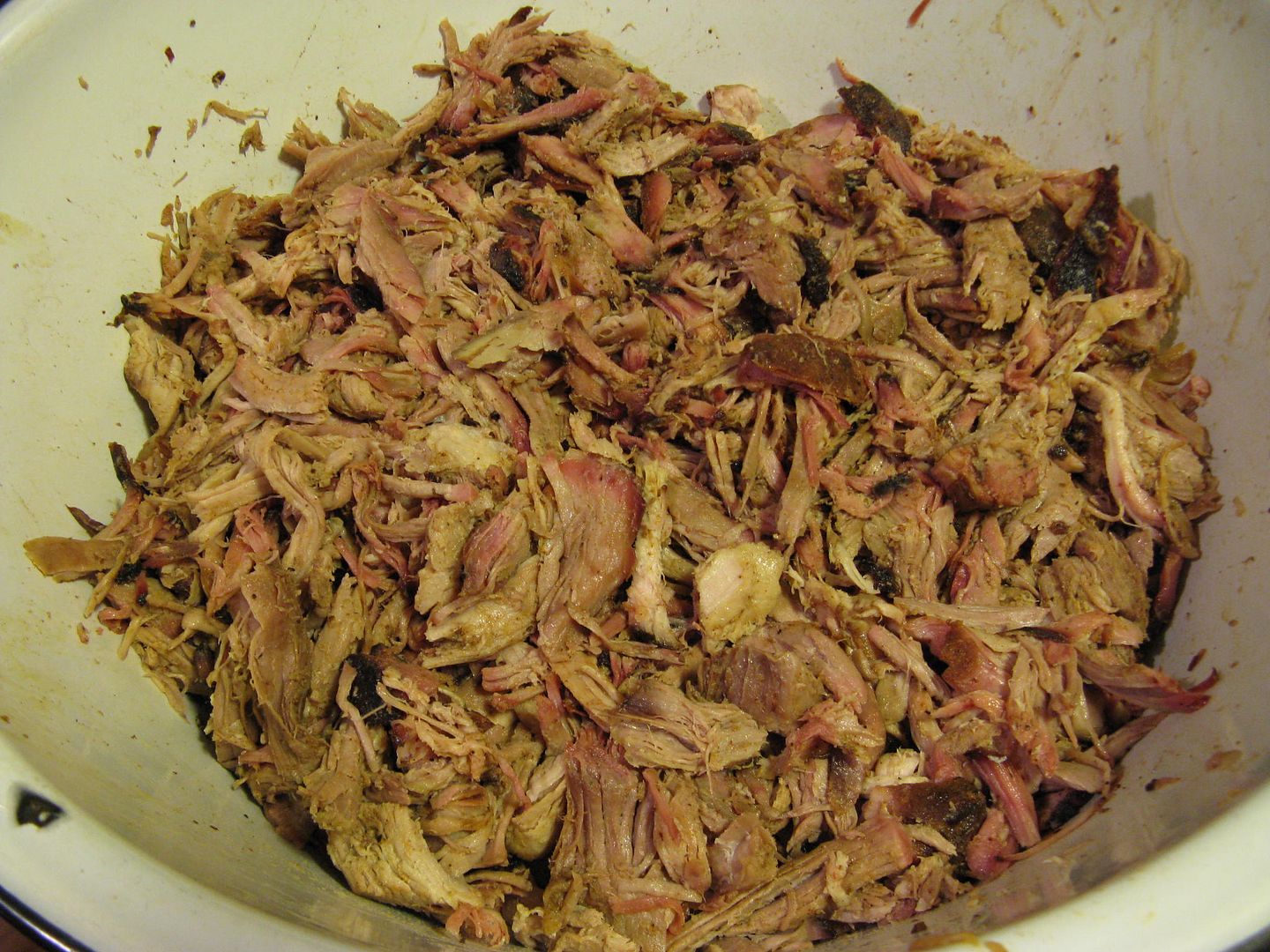 How was the final product? The bark was outstanding. Sweet with a bit of heat. The meat was a bit over done. Just slightly mushy. The longer cook time with the lower heat seems to break down the meat more than a shorter cook at a higher temperature.
Next time, I will try Stubbs Chicken Marinade in our injection as it has a mellower flavor and we will check the meat and possibly pull from the smoker at 185 F. Overall though, we were happy with the result.
Thanks for stopping by,
Bill